Written by Ed Pollack of Edward T. Pollack Fine Art
In 1898 the 27-year-old artist John Sloan was introduced to Anna Maria (Dolly) Wall in a brothel (See Loughery, John Sloan Painter, and Rebel, pp. 49-50). They were married in 1901 and the marriage weathered many crises related to Dolly's problems with alcohol and mental illness, lasting until her death in 1943. Her alcoholism and the behaviors that came from it were a source of continuing unhappiness to Sloan; he wondered how she was able to get money for drink until he contracted a venereal disease and realized she was having relationships outside of the marriage. Despite these problems, they were able to maintain a strong, mutually supportive, and loving relationship. A friend upon whom they both depended for moral support was John Butler Yeats, a painter, and the father of the poet William Butler Yeats and the artist Jack Yeats, who spent the last 14 years of his life in New York, where, despite his traditionalism as an artist, he was viewed as an eminence grise by the avant-garde artists of the day, and was considered the best conversationalist in New York.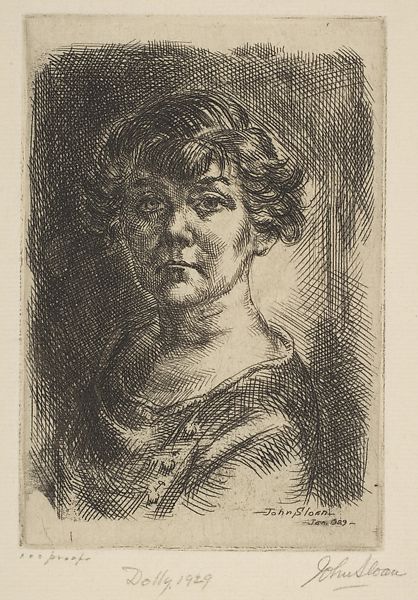 In his art, Sloan was strongly influenced by the painter Robert Henri, and became associated with the group of painters known as the "Ashcan School." He and Dolly were also active Socialists, he as Art editor of the Masses and as a Socialist candidate for political office, she as a campaigner for women's suffrage and other progressive causes in Greenwich Village where they lived, and a member of the Children's Strike Committee during the 1912 textile mill strikes in Lawrence, Mass. (American National Biography Online, Rambling Digital Humanist, Feb 29, 2012).
In the autumn of 1916, Sloan began teaching painting at the Art Students League, where in 1927, Helen Farr, then only sixteen, enrolled as a student in Sloan's class. She became friendly with Sloan and Dolly, and spent several summers at their ranch in New Mexico in the 1930s. She married the brother of the painter Stuart Davis in 1937, but the marriage lasted only a short time. The notes she took on Sloan's lectures at the Art Students League formed the basis of his important book "The Art Spirit." Although it is not clear whether Sloan had an affair with Farr, it does not seem unlikely, particularly as they were married within only a few months after Dolly's death. After Sloan's death in 1951, Farr continued to work as an artist, but also worked to organize major exhibitions of Sloan's work, and donated a large amount of his work to public institutions. Helen Farr Sloan, who was forty years younger than John Sloan, died in 2005.

Angna Enters studied at the Art Students League in 1919 and 1920. She worked as a commercial artist while also studying dance with Michio Ito, the famed Japanese choreographer. Beginning in 1924 she began to tour with a dance and mime performance program called "The Theater of Angna Enters. " (Enters was born Anita Enters in 1897, but when she began performing she took the name Angna, and changed her birthdate to 1907). In addition to her work in theater, she authored several books and was a prolific artist, and was astute enough at self-promotion to coordinate exhibitions of her paintings with the dates and places of her concerts. She also taught at Stella Adler's acting school, and at several colleges and universities. She died in 1989.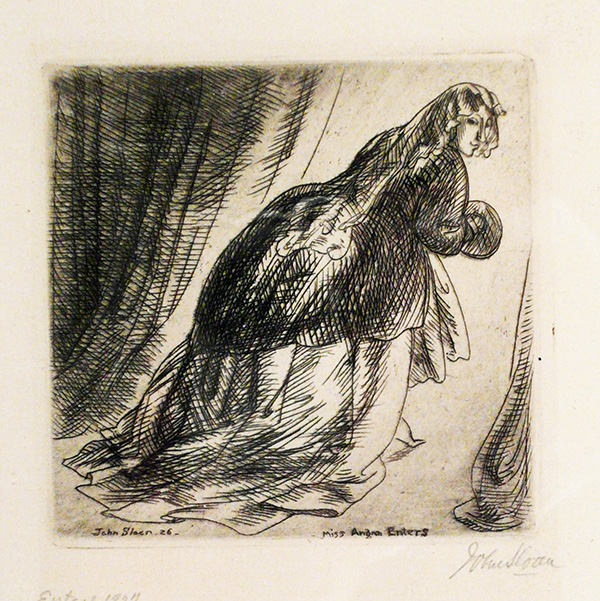 Sloan and Helen Farr were friends and admirers of Angna Enters, and both used her frequently as a subject in their work. "Angna Enters in Pavana is one of a group of prints by Helen Farr of Enters performing various of her works. John Sloan did seven etchings of Angna Enters between 1926 and 1930, two of which he used as his and Dolly's Christmas and New year's Greeting cards, for 1925-26 and 1927-28. The most notable of the Enters etchings is "The Green Hour," done in 1930, about which Sloan commented, "I have made several etchings produced under the inspiration of the creative genius of Angna Enters. This one has given me great satisfaction." In the same year, Sloan also did an etching of Enters performing "Pavanna" in the same costume she wears in the Helen Farr print. Sloan comments, "This plate has merits, but it lacks the disdainful majesty of Miss Enters' portrayal of a proud, sensual and religious Spanish aristocrat." Interestingly, this very quality comes across very strongly in Farr's print.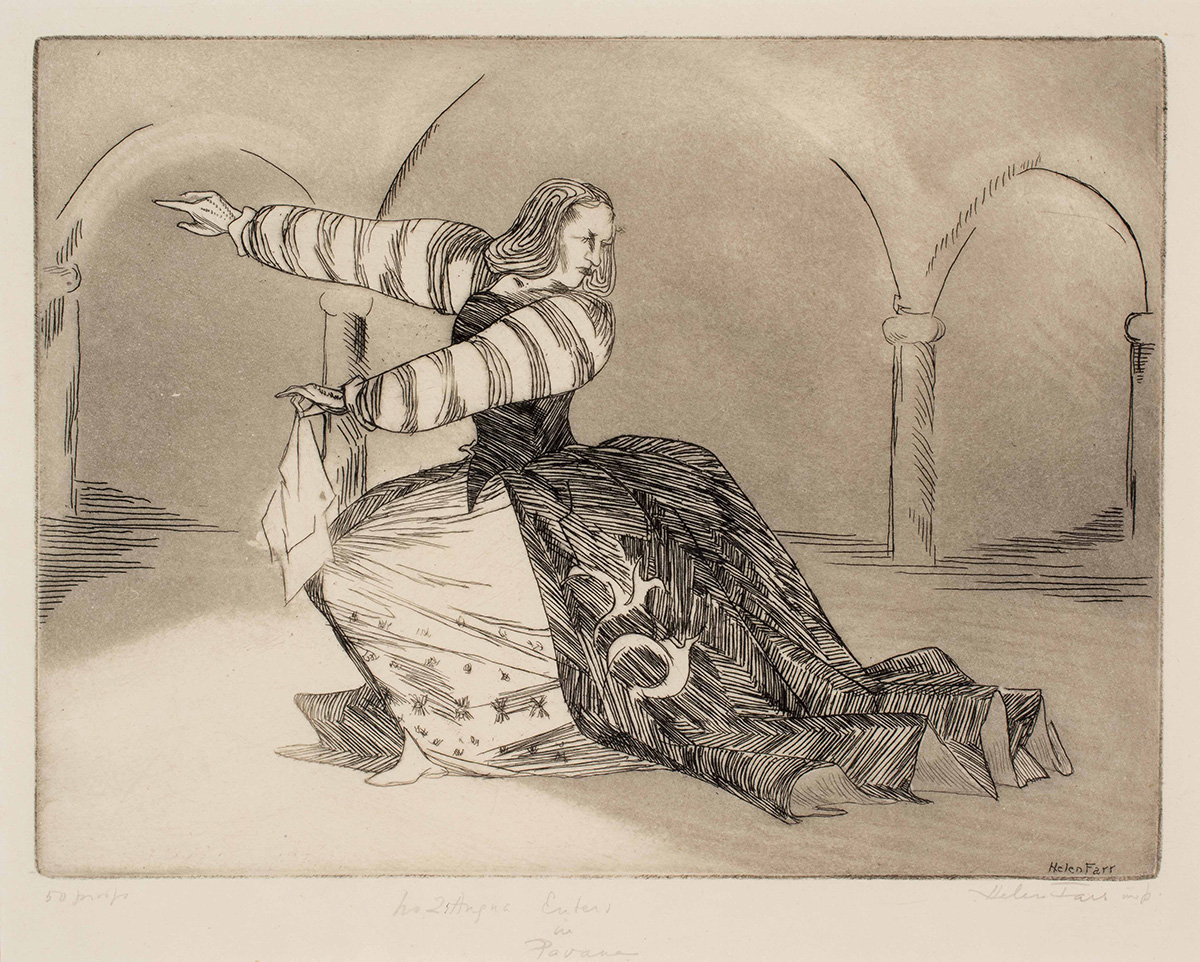 Given that Sloan was Farr's teacher and mentor during the very period of his fascination with Enters and her work it seems likely that both his "Pavanna" and her "Angna Enters in Pavana" derive from attendance at the same performance.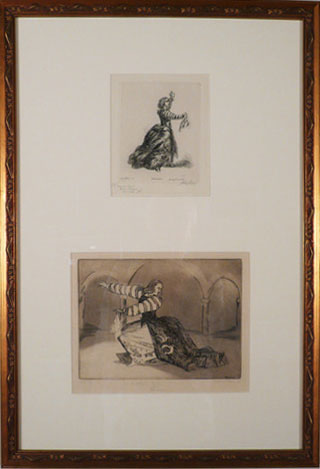 Pictured here are the two etchings PAVANNA, by John Sloan, 1930. 5 x 4 inches; an edition of 100, of which only 80 were printed. Titled, signed, and inscribed "100 proofs," this copy dedicated "To my dear friend, Aline Rionie, N.Y. 1930, J.S," and ANGNA ENTERS IN PAVANA by Helen Farr, an etching with aquatint, 1930. 6 x 8 inches. Signed in the plate, and signed, titled, and inscribed "50 proofs" in pencil in the lower margin.
In "Memory," Sloan recaptured, following the death of Robert Henri's wife Linda, evenings the two couples spent at home. Here Linda reads aloud while Henri and Sloan sketch, and Dolly listens. This etching dates from 1906, and because of its popularity Sloan printed 110 instead of the 100 called for by the edition limitation.
John Butler Yeats did several drawings of Sloan and Dolly, separately and together. This one, illustrated in Gordon, "John Butler Yeats and John Sloan – The Records of a Friendship".