OnPaper.Art is a venture designed to fulfill two purposes:
1. Assure the production in virtual form of the various local and regional print fairs which are a mainstay of the Print Trade. Our next Virtual Fair, the NY Satellite Print Fair, will take place from October 15 -31. 2021. This Fair has been held annually since 2010, at the same time as the IFPDA's Fine Art Print Fair, providing an affordable venue for IFPDA members for whom the larger fair is too costly, and for qualified print dealers who aren't members of IFPDA. In January there are Print Fairs over three successive weekends at the Portland Art Museum in Portland, Oregon, the Kala Institute in Berkeley, California, and at a venue in Pasadena, California. OnPaper.Art will produce the West Coast Print Fair as a virtual alternative to these shows, in January 2022, with the specific dates to be announced.
2. Host a Gallery Site on which subscribing Dealers and Artist will be able to offer prints, drawings, photographs, artist's books and other fine works on paper on a year-round basis.
Our Principals
Edward T Pollack
Ed Pollack was born in New York City. He is a graduate of Hobart College and of Harvard Law School, and served two years in the United States Army. He worked for the US Department of Housing and Urban Development as a lawyer and administrator, and later was the General Counsel for the Massachusetts Housing Finance Agency.
While engaged in his career in the Public Sector Ed was also very much involved in the worlds of art, antiques, and rare books. He was a partner in a shop in Greenwich Village in the 1960s called The Tunnel of Love (six feet wide, sixty feet long), and in another in Boston called All Our Yesterdays in the 1970s and 1980s. For these shops Ed began to buy books, mostly those relating to art and artists, which led to his becoming a specialist in rare and collectible art reference books, and to membership in the Antiquarian Booksellers Association of America (ABAA) in 1992. Ed bought his first etching off a friend's wall at a dinner party in the 1960s, and began collecting German Expressionist and American prints. He once took a table rack of prints to supplement his books at a Book Fair and found the response so positive that he began to buy prints for resale as well as for his own collection, and eventually joined the International Fine Print Dealers Association (IFPDA).
Ed has exhibited at Print and Book Fairs on the East and West Coasts for decades, and since 2014 has served as the manager of the New York Satellite Print Fair and of the Capital Art Fair in Washington DC, with responsibility for contracting and working with venues, exhibitors, and third party providers, for managing show funds, and for all aspects of promoting the shows to the institutions and the public which support them.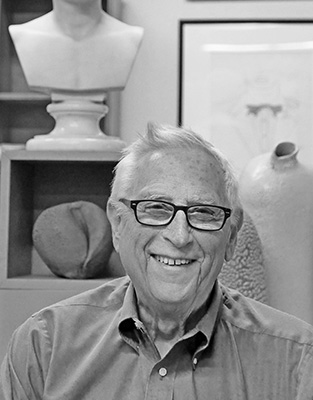 ___________________________________
Bernard Derroitte
Born in Belgium, Bernard Derroitte studied art history at the Catholic University of Leuven, with a year of study aboard in Berlin, Germany. He met his wife in Berlin and moved to the United States in 1998. After working for Richard Reed Armstrong for 8 years, Bernard took over Armstrong Fine Art in 2006. For many years Bernard participated in art fairs and print fairs coast to coast, showing in up to 20 fairs in some years. In the early 2000s Bernard was a co-organizer of the Chicago Fine Print Fair.
In 2018 Bernard launched Mesh Art Gallery, alongside Armstrong Fine Art. Mesh is an online dealership in contemporary works on paper by independent artists. Starting in 2018 the inventory shown by Armstrong Fine was also diversified, away from showing primarily French prints, to works on paper from an ever-greater plurality of cultures. Through a personal interest in languages, of which Bernard speaks four, he has increasingly developed an interest a variety of forms of expressions. Always on the lookout for unexpected, scarce, inventive, and finely crafted prints, his passion is for objects that grab his attention, not for name recognition. Bernard has called Chicago home for nearly half his life now, and lives with his wife and two teenage children on the Southside of the city, near the university.