While Americans recognize the great John Singer Sargent, the Swedes applaud the illustrious Anders Leonard Zorn. Sargent is best remembered for his important portraits and landscapes, while Zorn is heralded for his overall creative genius as a watercolorist, oil painter, sculptor, woodcarver, and extraordinary etcher.
Who was Anders Zorn and why is he so important? Why is he recognized as Sweden's premier artist?

Zorn was born in Mora, Sweden in 1860, the son of Grudd Anna Andersdotter, called Mona, mother in native Mora dialect. She had worked in a brewery in Uppsala and met the German brewer Leonhard Zorn, who became her son's father. The couple never married. It was agreed that Anders would carry his father's name, even though the two never met.
Anders Zorn was raised by his grandparents in Mora. At the age of 12 he was sent to a school in Enkoping, and at age 15 he entered the Royal Academy of Art in Stockholm. It was here that he showed unusual artistic ability, especially skillful in carving horses and the human figure. He was planning to be a sculptor, but soon painting and etching prevailed.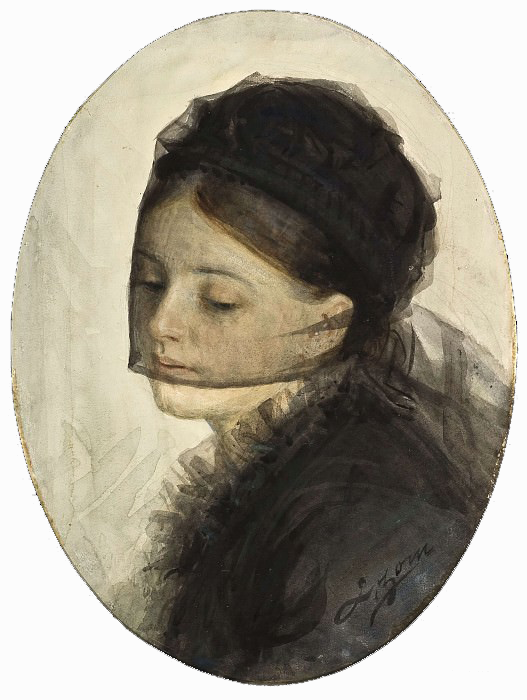 At the Academy exhibition of 1880, Zorn exhibited a watercolor called In Mourning. It attracted the attention of King Oscar II of Sweden, for whom Zorn painted a similar painting in 1883. This powerful work, now in the National Museum in Stockholm, was the catalyst that brought great attention to Zorn. As a result, the wealthy Swedish society sought him out for portrait commissions. His portraits, primarily done in oils, were poignant, and his works of children were noteworthy. Zorn always made a study of his subject and made it a point to have the sitter pose in his/her natural environment. By doing so, he gave character and soul to his work.

While painting a portrait of a young lad in 1881, Zorn met Emma Lamm, who would become his future wife. Emma was from a different world. She came from a wealthy Jewish family in Stockholm whose ancestors were among Sweden's first Jewish settlers.

From 1881 to early 1885, Zorn went abroad to England and Spain to fine-tune his overall artistic abilities. He needed to earn enough money to marry Emma Lamm and support a family. It was during these years that Whistler, Haden, and Legros, all active on copper plates, awakened his interest in the etching medium. Haden, who executed masterpieces, founded the Society of Painter-Etchers. At the time, Whistler's first "Venice Set" had been on the market for several years. It was, however, from his elder colleague Axel Haig, that Zorn learned the art of etching through the use of the needle and mordant on the copper plate. After several years Zorn etched a portrait of Haig and achieved a fine result. In gratitude of Haig's friendship and teaching, Zorn etched three portraits of the artist.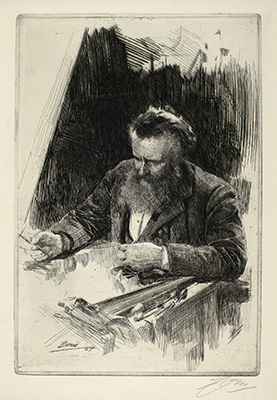 By the mid 1880's Anders Zorn had developed his abilities and was now very accomplished. He produced a total of 289 etchings, many of which are very well known. The portrait of Ernest Renan was executed in 1892, Auguste Rodin in 1906, and August Strindberg in 1910. As Zorn had great admiration for the Dutch Master Rembrandt, whom he considered to be the master in this medium, he collected Rembrandt's works.

In 1885 Anders Zorn and Emma Lamm married. The following decade the couple was abroad in England and Paris, but they always returned to Mora during the summer season. Following 1885 Zorn spent much time traveling with Emma and painting in St. Ives in Cornwall, England, and in Paris, where they lived for eight years.

During this period he achieved much success and fame. His important painting, Fisherman at St. Ives, was shown in the Paris Salon, where it won honorable mention. It was quickly purchased by the French Government for the Musee de Luxembourg. In 1891 Zorn made an etching after the painting.

From the late 1880s to the early 1890s he produced many memorable works through which he gained prominence in the important Parisian art world. Zorn was only 29 years old when he was awarded the Legion of Honour Medal. In addition, he was called upon by the Uffizi Gallery in Florence, Italy to paint his self-portrait. His prominence was further enhanced during the Paris World's Fair at the Champ de Mars where the exhibition of his etchings caused quite a sensation. He was invited to show with the Societe de Peintres-Graveurs, where his etching Rosita Mauri was praised as a brilliant example of impressionist printmaking. Zorn, up to this time, had etched mainly as a diversion from the serious work of painting, and few of his early etchings were known. After the Champ de Mars exhibition, however, he began to show his prints more widely. His career as an important etcher was now launched!

Zorn's expertise as an etcher was his ability in the cross-hatching technique to block in design, line, and shading. His main concern was achieving success with the capturing of light on his subject. He completed a number of genre images that focused on the depiction of light and shadow. In The Waltz, produced in 1891, the dark cabinet in the foreground is lit by the lights of the ballroom in the background. In Omnibus, etched in 1892, the lights flicker over the passengers of a Paris bus. The lights from a street lamp and the window of a café reflect on the dress worn by the prostitute in Effet de Nuit II, made in 1895.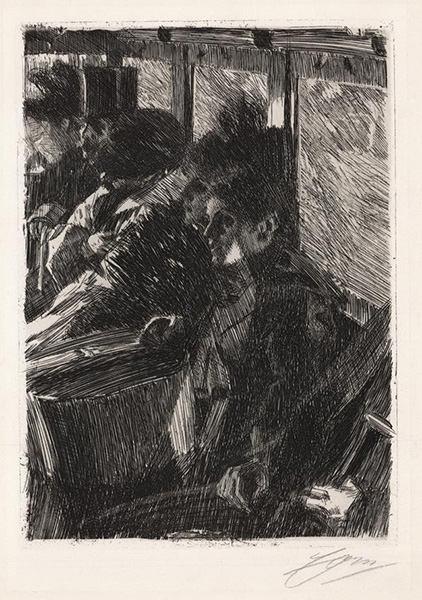 Zorn brought to etching a watercolorist's technique: quick, free handling without significant reworking. If an effect was wrong, another plate was begun. Zorn's method was his strength, as well as his weakness. It resulted in an instantaneous quality, as if a scene were briefly and brilliantly illuminated by a flash. His astounding skill with the etching needle can be traced back to his ability as a woodcarver.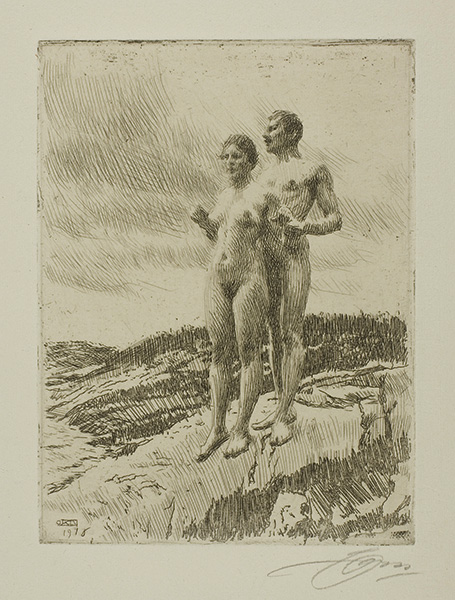 Zorn's etching oeuvre falls into three categories: portrait studies, genre scenes, and his most sought after, the nudes, especially those depicted outdoors. His portraits include many Swedish people, such as Mona (the artist's mother), Olga Bratt, Emma Rasmussen, Madonna, August Strindberg and Mme Simon II. The image of Ernest Renan, an important historian and philosopher, is recognized as Zorn's chef-d'oeuvre. It is one of the outstanding etched portraits of all time, worthy to stand beside Rembrandt's greatest works. Zorn's portraits of the Swedish royalty include: King Oscar II, Queen Sophia and The Crown-princess Margaret of Sweden.
Zorn also etched portraits of many prominent Americans: Isabella Gardner of Boston; August Saint Gaudens, the celebrated sculptor; E. R. Bacon, the railway king from New York; and Mrs. Potter Palmer, the art patron in Chicago. Charles Deering of Evanston, Illinois is depicted in two of Zorn's etchings: Reading and Travelling Companion. In addition, Zorn etched three American presidents; namely, Grover Cleveland in 1899, Theodore Roosevelt in 1905, and President William H. Taft in 1911.
The genre scenes claim an important rank in Zorn's oeuvre. In The Waltz, for example, he achieved the swirling movement of the dancing figures by the rhythmical arrangement of the lights and darks. Other images worth noting are: Omnibus, Sunday Morning, The New Maid, Dance At Gopsmor and The Bride's Maid.
As for his nude studies, Zorn etched many of his models in interior settings. The motif that he was renowned for, however, was the nude depicted outdoors. The movement of water and the reflection of light on its surface had long fascinated him. Now, he further complicated the situation by placing a model beside or in the water, as in Seaward Skerries, Dagmar, The Ford and Hemula II. His interior nudes include: Early, Before The Stove, The Hair Ribbon, Bust and Cabin.
Zorn's health deteriorated considerably during his last years. He died in 1920 at the age of 60. His funeral was attended by representatives of the Swedish royal family and many cultural personalities. He was buried in Mora Cemetery.
Zorn, through his own talent, realized great wealth and international fame. He had been embraced with affection by the best society of England, France and America — a wonderful achievement for an illegitimate child who came from modest means.
The record shows that Zorn etchings were, and still are, very collectible. In January 1937, just 70 years ago, the sale of the collection of Stanton Griffis was held at the American Art Association Anderson Galleries in New York. Many high prices were realized. J.B. Faure brought $110; Ernest Renan, $300; Reading, $120; Self- Portrait With Model, $60; Queen Sophia, $55; At The Piano, $115; The New Maid, $105; Seaward Skerries, $235.
This post was written by Ernest S. Kramer. Ernest S. Kramer Fine Arts & Prints is a noted dealership in late 19th and early 20th century prints and drawings with an emphasis on the 1920's, 30's and 40's. One of the major specialties of the gallery is Anders Zorn. With more than seventy Zorn etchings in inventory, including many important and rare images, he arguably has the largest repository of Zorn etchings in North America. The etchings are priced from $1750 to $35,000; with many works in the $2500 to $4,000 price range. Please visit his website at www.kramerfineart.com to see the full range of offerings. To arrange a private showing, please contact Ernest S. Kramer at 781-237-3635 or ernestskramer@verizon.net.